Relay Global is the trading name of Decor Ireland Ltd. We are a customer-focused sales and marketing company, who operate across the globe.
Our mission is:

To engender trust, transmit enthusiasm and present solutions to our customers, suppliers and staff by:
Only offering products in which we have confidence
Conducting our business in a way which is good and right
Investing our resources wisely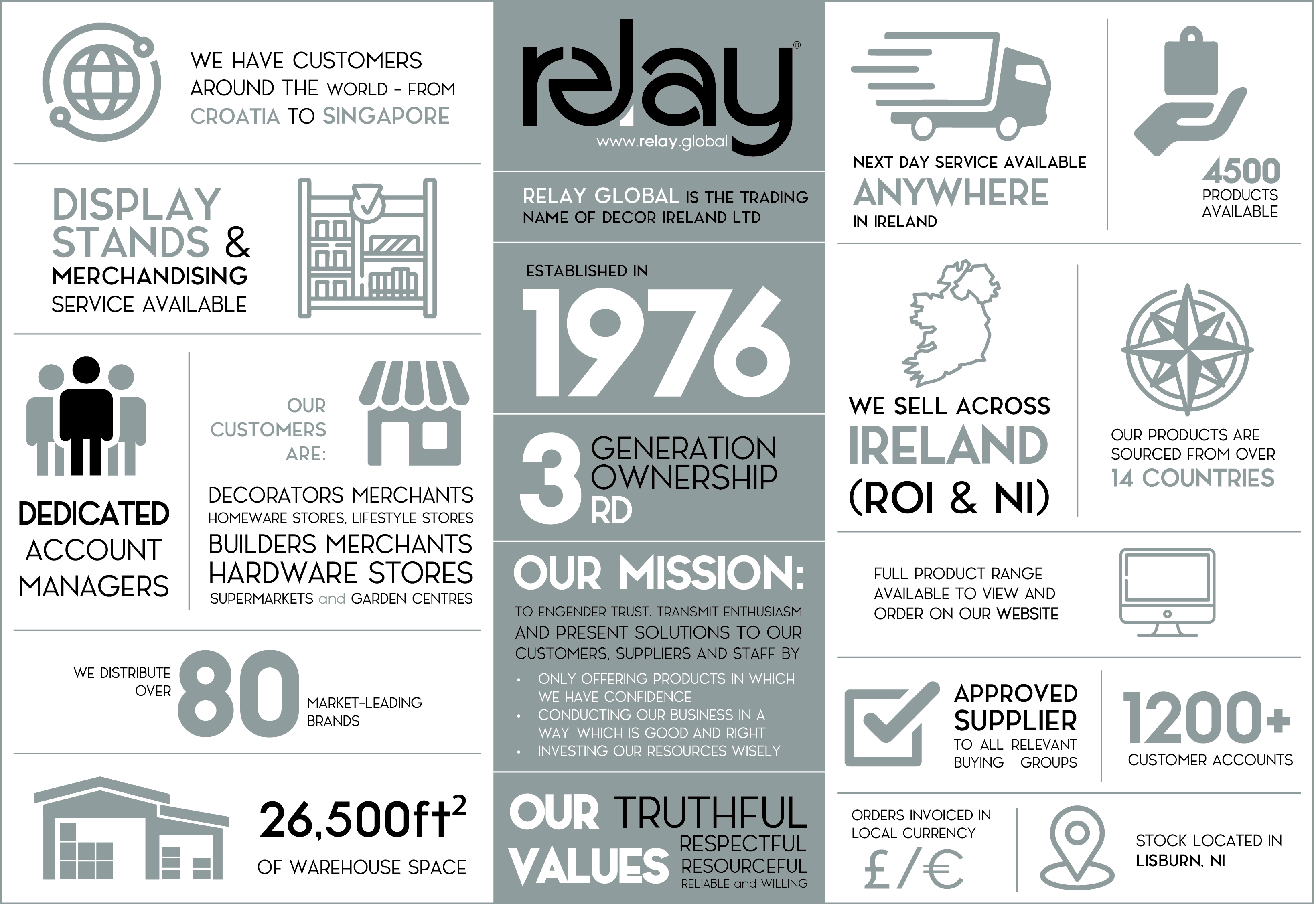 Our History
Established in 1976, as the Hamron Group, we sold specialist paints and coatings for structural fire protection. Over the years the company became a leader in this highly specialist field with our products being specified in many building projects, from the simple dwelling house to highly prestigious developments throughout Ireland and abroad.
What became clear in time, however, was that the sheer complexity of these products meant that they were not readily available to the traditional suppliers to the building trade - the builder's providers, decorator's merchants, hardware stores, etc. In the early 1990s we made a conscious decision to address this problem and embarked on a programme to develop structural fire protection products with simple and straightforward specifications, all tested to the relevant standards and packaged in such a way that they could easily be marketed by builders' merchants and the like.
The products, marketed under the Zeroflame brand, proved so attractive in the marketplace that we sold the original Hamron Group business to enable us to concentrate our efforts on this rapidly expanding new venture. Hence Decor Ireland was born.

In quick succession the Zeroflame products were joined by other painting, decorating and building related products as manufacturers recognized, and wanted to become part of, the Decor Ireland success story. This, coupled with the strategic acquisition of another wholesaler servicing associated product sectors, means that our product range is now probably the most comprehensive available to hardware stores, decorators' merchants, builders' merchants, paint shops, garden centres and lifestyle stores in Ireland and the UK.

However, by 2018 we had outgrown our original name. Decor is now just part of our range, and our sourcing and sales activities now stretch further afield than Ireland. Product and brand development, coupled with a number of strategic acquisitions over the years mean that our range now covers the decor, hardware, homeware and gardening categories. This enables us to service a wide spectrum of industry sectors, including but not limited to, hardware stores, decorators' merchants, DIY stores, builders' merchants, garden centres and convenience stores.

As a result of this, Decor Ireland made the decision to launch a new trading name, Relay Global. Why Relay Global? Because Relay Global is exactly what we do: Source globally, warehouse, distribute globally. Our role is to pass the 'baton' from manufacturer to reseller.
As a sales and marketing company we remain flexible, considering opportunities as they arise, looking ahead, analysing past successes and building on them, watching market trends and adjusting accordingly and behind it all keeping true to our mission, vision and values.